26 Sep

A Street Dance Called Carnival

When it's time for Miami Carnival, thousands of revelers come from all over the globe to Miami for a chance to dance and prance down a route in costumes covered with feathers, gems and trimmings of all sorts. Carnival also means the battle of the bands competition. Bands are made up of a sea of masqueraders, grinding and stomping to soca music blasting from mega sound systems attached to 10 to 12-wheeler trucks.

"I am going for gold; we have to try to do better than we did last year," said Sonia Hinds, whose band won third place last year.

The gold Hinds is talking about equals bragging rights as Miami Carnival Band of the Year and $7,500.

On Columbus Day weekend, 16 adult bands will compete for the title Miami Carnival Band of the Year.

Kids get in on the fun and competition, too. Young masquerade bands will vie Sept. 29 to be Junior Carnival Band of the Year and $2,500.

The bands are judged on the visual impact, creativity and authenticity of the costumes as well as the best use of color and presentation on stage. Carnival costumes consist of swimsuit pieces that are hand-designed with shiny or colorful rhinestones, beads and an assortment of garment accessories.

Even though bandleaders are facing competition, the designs are made with the masqueraders in mind.

"Our first goal is not to design for the judges," said Rolando Jarvis, whose adult band has been the reigning champion for the last three years.

Last year, Jarvis' band, Big & Strong Inc./One Island Band, wowed the judges with the theme, Namaste. It focused on different elements of finding peace.

"We felt as though the world needed to get a touch of those sort of things – positive thoughts," he said.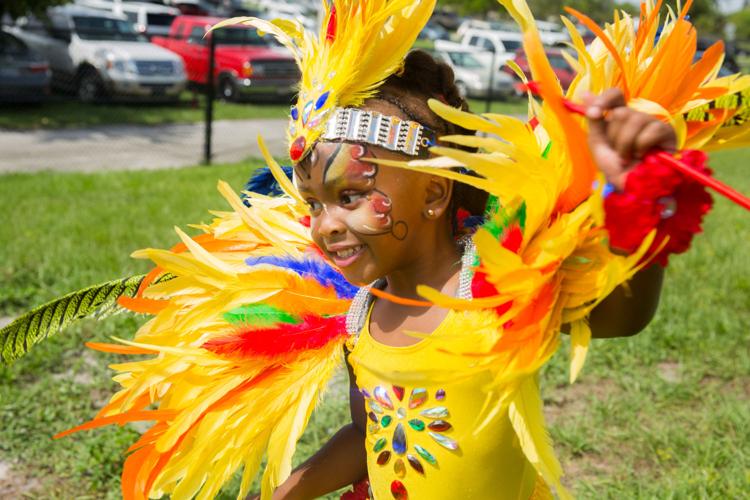 This year the theme is more on the playful side, Jarvis said. With ice cream as the inspiration, the band will present Carnival Sundae, a play on Carnival Sunday, the day of the week the event takes place.
"A sundae is a combination of different types of ice creams," Jarvis said, referencing the 14 sections of the band, which will each have an individual design depicting the same theme.
After sitting with his team to visualize the concept, it is up to the designers to figure out how to display it. Designers from Germany, Washington, D.C., New York and Trinidad and Tobago are among the sections that will account for the expected 2,500 masqueraders in Big & Strong Inc./One Island Band.
Jarvis said he is hands-off when it comes to making the costumes, but hands-on when it comes to making sure the entire production is going well.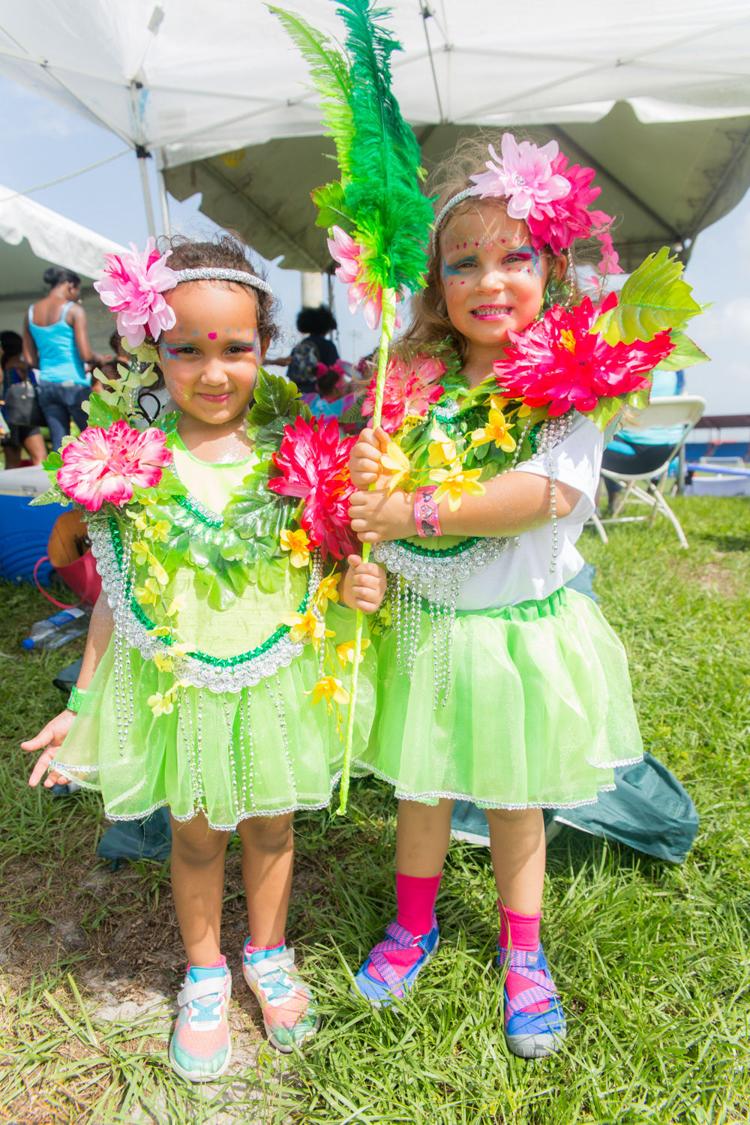 "You want the day to be successful; you want to see the masqueraders happy and enjoying themselves," said Jarvis. "I think that's what we look forward to and that's what we consider a success."
The Parade of the Bands is an all-day, all-inclusive event for those playing mas (in costume).
In addition to music, access to the event and costumes, the bandleaders and their teams also provide the masqueraders with unlimited alcoholic beverages and food throughout the day.
Hinds, leader of Bajan Fuh Evah, said she is already planning for next year's carnival. But first, she plans to win first place.
Bajan Fuh Evah's theme this year is Candy Land: A Kingdom of Sweet Adventures. It has sections such as Cotton Candy, Licorice, Ice Princess and Gum Drop.
"We wanted something bright and something with vibrant colors," said Hinds. "We took a mixture of the game, Candy Land, and we put our twist on it."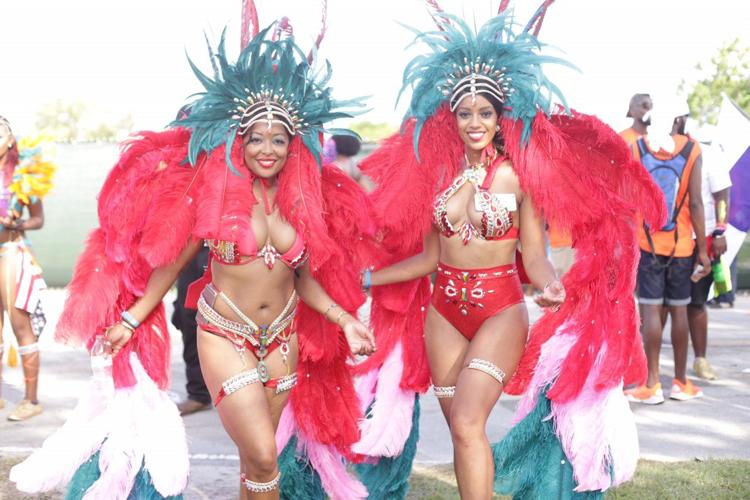 One of her designers is Lauren Austin whose designs went viral on social media three times when superstar singer Rihanna wore them for Barbados' carnival, Crop Over. Last year, Bajan Fuh Evah presented Hidden Treasures with sections like Yellow Diamond and Sea Goddess Gems. It brought the band from eighth place in 2016 to third.
The key to improving, Hinds said was concentrating more on what the judges would be looking for, but the revelers' experience is still her main priority. Hinds expects about 600 masqueraders this year.
What makes the perfect carnival experience, said Hinds, is good food, drinks, customer service and music to match an elaborate costume.
"I think all masqueraders like to look beautiful on the road. They want a costume that fits them nice," she said. "It makes them feel free for that one day."
IF YOU GO:
What: Miami Carnival
Parade of Bands and Concert
When: Sunday, Oct. 7
Where: Miami-Dade County Fairgrounds
10901 SW 24 St., Miami
Time: 11 a.m.-11 p.m.
Advance Tickets-$35
KIDS PLAY MAS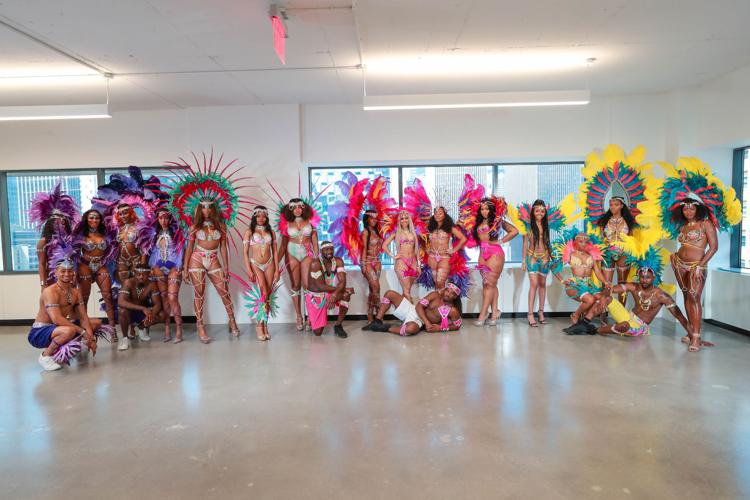 Giselle Blanche started her first carnival band when she was 14 years old. It was for Miami Carnival. Since then she has lead a band in the city every year.
Affectionately known as Giselle The Wassi One, she has been ordained the ambassador of Miami Carnival.
"While everyone else was playing with dolls and getting ready for prom, I was making costumes," she said.
Blanche comes from a "mas family." Her mother is a costume designer and her dad, a musician and performer. She started playing mas at 1 year old.
Blanche leads a junior and an adult band. Her adult band is the longest standing band in Miami Carnival.
Last year, Blanche celebrated 30 years in the parade with the theme, Let's Celebrate. The junior band had sections such as confetti.
Her Wassi Babes, as she calls the junior band, is also presenting something sweet.
Caribbean Treats is a look back at the favorite candy that Caribbean children have enjoyed over the years. Kids are expected to display sweets like caramel and coconut.
The Wassi Babes did not place in the competition last year. But Blanche said she is not competing for a title.
"There is a competition; and may the best man win," she said. "What I am competing for is Caribbean unity and the extension of my culture everywhere we get an opportunity to express it."
Carol Antoine said carnival is a little piece of the Caribbean in Miami's backyard.
"It is cultural. We were raised in Trinidad knowing you want to part of it," Antoine said.
In Antoine's junior band, Natural Disaster Inc., children as young as 3 pranced around. It won second place in Miami Carnival last year.
Natural Disaster's theme this year is Let's Wave. It is inspired by unity and togetherness. The costumes bring together the cultures of several countries with the use of feathers, braids, bright fabrics and flags.
Antoine said the most important part of the judging is the presentation of your synopsis. The synopsis explains the theme and the concept behind it. Bandleaders often use it to tell a story. The synopsis has to be submitted the Monday before carnival. The master of ceremonies reads it while the bands go on the stage and dance and display their costumes.
"Your costuming has to represent what you are and what you are really saying," said Antoine.
IF YOU GO:
What: Miami Carnival
Junior Carnival
When: Saturday, Sept. 29
Time: Noon-10 p.m.
Children under 12 are free
Where: Central Broward Regional Park
3700 NW 11th Place,
Lauderhill
Advance Tickets: $10
$15 at the park
Original Article: http://www.miamitimesonline.com/lifestyles/a-street-dance-called-carnival/article_f611688c-c193-11e8-98ce-b742fa9cf91c.html